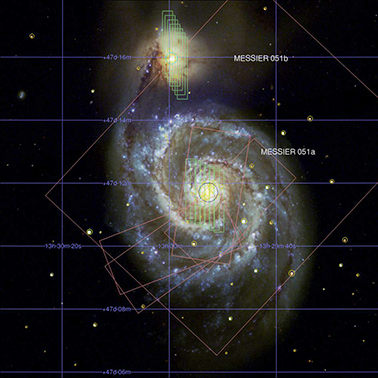 These values are all available for the user to manipulate; for instance, changing the color for Overlay 6 to green: "
viewer.view.overlay[6].color = 'green'
" and then asking the system to redraw the display ("
viewer.draw()
") will change just that attribute.
The overlays (and the view object itself) can be assigned to variables and managed like any other data. The utility functions used in our examples all return such pointers. For example, you can say "mygrid = addGrid('galactic')" when you create the overlay and then later "mygrid.visible = False" to hide it. We have opted for not having an extra utility function for controling visibility; use direct attribute manipulation for that.
You can create your own overlays (and views) from scratch and configure them:

        ovly = mvViewOverlay()

        ovly.type      = "grid"
        ovly.color     = "ffff00"
        ovly.coord_sys =  coord_sys
        ovly.visible   =  True

        viewer.view.overlay.append(ovly)

So your application could have a collection of views, overlays and even mViewer instances (multiple displays) and manage the mixing and matching in whatever way it sees fit.